BOILER REPAIR SERVICES
We facilitate the meeting between users and professionals
Is your boiler problematic and your energy bills are skyrocketing? Then you need a boiler repair technician that only emergency plumbers in Birmingham can provide. The local boiler repair technicians are familiar with different types of boilers and are available to come to your property at any time to fix boiler problems. We can provide experienced boiler engineers with comprehensive expertise in gas boiler repair and electric boiler repair. Surely, we offer all the boiler repairs services seven days a week, even on holidays. In case you have issues with your boiler, a certified engineer will be out on the same day to service it — whether it's powered by gas, petroleum, or steam.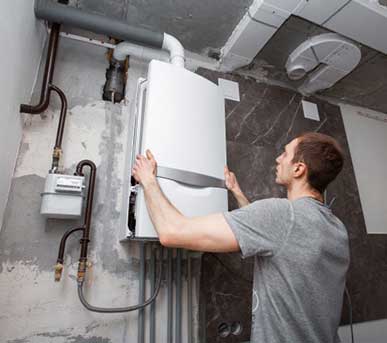 BOILER REPLACEMENT AND INSTALLATION IN BIRMINGHAM
Regular maintenance of boilers and boiler systems is crucial for the effective heating of air and warm water at home. Therefore, don't wait until you get the freezing temperatures to have yours checked out! We can check your boiler and make any needed changes or repairs. When the licensed technicians come to your home, they will inspect thoroughly in order to make sure everything is alright. In case your boiler is not working properly we can even substitute the current boiler or install the boiler in your home on the same day if you approve the job. Some of the boiler problems that we repair are:
Water not evenly getting hot
Cold or lukewarm water coming out of the shower
A noisy and disruptive boiler which could indicate sediment build up
Pilot light flickering or not going on
Leaking boilers that could cause accidents or lead to water wastage
Discolored water coming out of the equipment
Water pressure reduction
Frozen or condensed pipes during winter which might interfere with the outlets
Radiator not heating up due to sludge accumulation
Boiler switching itself off meaning that the pressure could be too low
So, if you need to install a new boiler, you can rely on experts. They install boilers in new properties or replace older ones. Bear in mind that boilers that are over ten years old may have regular breakdowns hence may need replacements.
Punctual Availability Time
Available 24 Hours in 7 Days

Well-Qualified Plumbers
& Quick Response

Punctual Response Time
100% Response On Time